About Our Church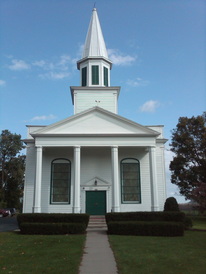 Early pioneers in the valley established the First Congregational Society in 1804, and our present church building was built in 1831, with its two-tiered steeple in the Federal Style. In 1859, the building was rolled on logs to its present location on Preble Road. The church was added to the National Register of Historical Places in 2002. By night, the church's steeple shines as a beacon to all.

---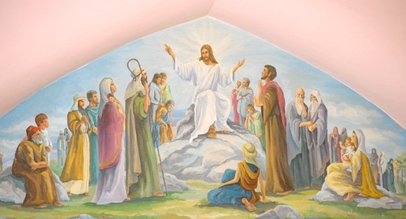 This mural overlooks our sanctuary from above the pulpit, and catches the eye of everyone who visits our church. Local artists and sisters Pat Norris and Nancy Harris painted the mural from scaffolds in 1965, both while pregnant! Our church men built the sturdy scaffolds, and church ladies watched over the sisters as they painted the lovely mural. A national conservator has advised us in the care, cleaning, and preservation of our lovely mural, so that we can share it for many decades to come.

---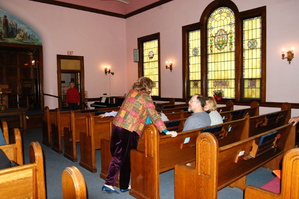 Taken as the congregation gathers before worship on a Sunday morning. These beautiful stained glass windows were created for Preble CUCC by Henry Keck, a protege of Louis Comfort Tiffany. After studying with Tiffany, Keck established a studio in the Syracuse area, and our church is one of a few with these windows throughout the sanctuary and Fellowship rooms.

---
---
Our Sheffield Bell

Did you ever wonder what the bell at the top of our belfry looks like? Well, some of us have made the trip up to the top of our steeple and here is what we found out.

First of all, this is what is written on the outside of the bell:

Naylor, Vickers & Co. 1857 Sheffield E.Riepe's Pat. #1636

"Cast Steel" 355

What does it all mean?
George Porter Naylor and Edward Vickers, brothers-in-law, formed a partnership in 1853 in Sheffield, England as steel manufacturers. They began producing cast steel bells in 1855 using the patented process of pouring crucible steel into clay molds, developed by a German named Ewald Riepe.

In an advertisement for Naylor and Vickers in 1860, the bells are described as "having a very pure, melodious sound, peculiar to cast steel; and as the elasticity of this material seems to produce more powerful vibrations, their sound penetrates to a greater distance." However, many church goers in England, having been used to hearing the sound of bronze or copper bells, did not appreciate the sound of these "rusty, tin cans" and held the opinion that they were an "abomination which ought to be prohibited by an Act of Parliament."

Regardless of this, Naylor and Vickers, went on to produce steel bells ranging from 35 pounds to 7 tons for more than 40 years and shipped them to 6 continents. They only sent 204 bells to the United States and our bell, with a date of 1857 and a serial number of 355 makes it one of the earliest ones they ever made and the first one to reside in New York State. It is 32 inches high and has a diameter at the mouth of the bell of 38 inches, which makes its weight approximately 1,000 pounds. According to our musical director, Steve Wilson, it rings a perfect A flat note. Another interesting aspect of our bell is that it has two methods of being rung. It is equipped with a hammer and also a regular bell clapper. Both apparatus show signs of wear.

There are other Sheffield bells in churches in Skaneateles, Sherburne, New Berlin and Norwich.

If you have ever wondered how far sound travels, consider this: Our bell, tuned to A flat, traveled from a foundry in Sheffield, England, over 3,000 miles on a ship across the ocean, possibly to a port in New York City or Boston, probably by horse and wagon, up hill and down, over 200 miles to our town to be hoisted up over 50 feet to our bell tower and has rung out over our peaceful Preble Valley for 156 years. Let's hope it rings for another 156 years.

---
Preble Congregational United Church of Christ Timeline

1804 Joel Hale and Theodore Hinsdale, missionaries from Connecticut, organized the First Congregational Society of Tully. [August 27, 1804]

1808 Preble broke away from Tully and became a township. [April 8, 1808]

1810 Religious Society of Presbyterian Church formed and Magna Carter formulated. Twenty-two members signed (all men) and a record of the meeting was filed and recorded in the county clerk's office in Homer on October 12, 1810. There was no minister and no meeting house, but each member was obliged to pay 25 cents a year.

1814 First Methodist Episcopal Society of Preble formed and log church was built on the Gospel Acre in the Preble Village or Preble Corners as it was called then.

1814 Presbyterian Church builds their first church at the corner of Currie Road and Route 11 in what was then called Preble Center.

1824 Methodist Episcopal Church completed a larger and better church near the intersection of Steger Road and Preble Road.

1831 Presbyterians had outgrown their meeting house so they built a new church with improved architecture and a higher steeple.

1859 The Methodis Episcopal Church was moved a little to the east and 13 feet were added to the west end, where the pulpit was placed. The cost was $1,400.

1859 The Presbyterian Church moves across the valley to the Preble Village and a sessions room is added to the north end at a cost of $3,090.

1867 The Presbyterian Church first takes up Sabbath collection. [January 8]

1917 The Presbyterian Church writes a letter to the Methodist Episcopal Church proposing that the two churches join together in building a new church that would encompass both religious affirmations. The Presbyterian Church states at this time their edifice which is 86 years old is practically beyond repair. [April 11]

1918 Union services were held between the Presbyterian Church and the Methodist Episcopal Church during the "coal crisis."

1923 Major renovations are made to the Presbyterian Church with a basement, kitchen and social rooms added at a cost of $25,000. The work is overseen by Earl Dennis.

1924 The church was incorporated and shall be called The Presbyterian Church of Preble. [April 7]

1946 The Presbyterian Church and the Methodist Episcopal Church joined and began worshipping together as the United Church of Preble with members of each keeping their original identity. [December 1]

1951 The members voted to become the Preble Congregational Church. The Presbyterian Church was used for all services, because it was in better repair and larger. The Methodist Church was used for funerals, special events and leased to the Preble Grange. [January 22]

1961 The Preble Congregational Church becomes part of the United Church of Christ.

1962 The steeple is first lit at night.

1965 Sisters Nan Harris and Pat Norris paint the mural at the front of the sanctuary of the "Sermon on the Mount."

1968 The Church acquires the Willard Morgan property.

1971 The addition at the north end of the church is started and completed in 1975. Classrooms, an office and a large multi-purpose room are added at a cost of $40,000.

1971 The Methodist Episcopal Church is sold and torn down. Two of its stained glass windows are incorporated into the new addition of the Presbyterian Church.

1979 Renovations of parts of the church's steeple take place and the spire is replaced at a cost of $3,000.

2002 The Church is placed on the Historic Register.

2004 The Church celebrates its Bicenntenial.

2013 Steeple renovations to rebuild and strengthen the interior of the steeple square and bell tower area take place in October. South sanctuary wall is also strengthened and new pulley and ropes are installed for bell. Total cost is $9,528.

2014 The Church acquires Don Wright's house to use for a manse. [April 1]